Embarcadero Marine Park: The Best San Diego Pier
In most seaside cities, the pier serves as a hub of activity for locals and visitors alike. The West Coast gem of San Diego is no exception, with several notable piers dotting the 70 miles of the city's coastline. Each beckons guests to enjoy one of the charming neighborhoods that surrounds it.
Within San Diego County, you'll find 8 piers to enjoy:
Oceanside Pier in Oceanside

Crystal Pier in Mission Bay

Ocean Beach Pier in Ocean Beach

Shelter Island Pier in Point Loma

Coronado Landing Ferry Pier in Coronado

Imperial Beach Pier in Imperial Beach

Ellen Browning Scripps Memorial Pier in La Jolla

and the Embarcadero Marina Park South Pier in Downtown San Diego
Embarcadero Marina Park South Pier that extends 95 feet from the shore and is mainly used as a leisure and fishing pier. If you're not there to cast a line, you'll find ample opportunity for taking ocean selfies and watching surfers.
Complementing the pier is the Embarcadero Marina Park. With plenty of green space, access to restaurants and bars, rich history, and tons of ongoing entertainment, Embarcadero Marina Park has been a must-see destination since it opened in 1978. In the years that followed, it's undergone multiple renovations, making it the vibrant destination it is today.
So if you're spending a weekend at a San Diego vacation home and want to see what this area is all about, here's how to make the most of your time at the Embarcadero Marina Park South Pier.
Where is the Embarcadero Marina Park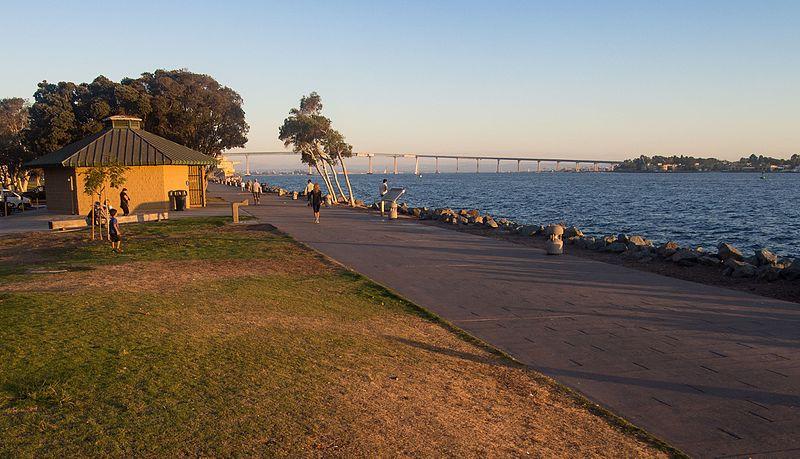 Photo Credit: commons.wikimedia.org
You can find the Embarcadero Marina Park South Pier along San Diego's Marina Park Way in front of the bustling Gaslight Quarter. It sits on the edge of Downtown San Diego (before you reach the Coronado Bridge) overlooking the San Diego Bay.
While tons of paid parking lots and street parking are available, they tend to fill up quickly. Calling an Uber or Lyft might make for a more stress-free trip (especially if you're staying in one of SD's beachside neighborhoods).
If you're residing in the downtown area, you might be able to walk, rent a bike or scooter or call for a free ride from FRED—just don't forget to tip your driver!
What To Do at the Pier
The Embarcadero Marina Park South Pier has a Southern California vibe. The surrounding area is full of activities and attractions for visitors of all ages.
Go Fishing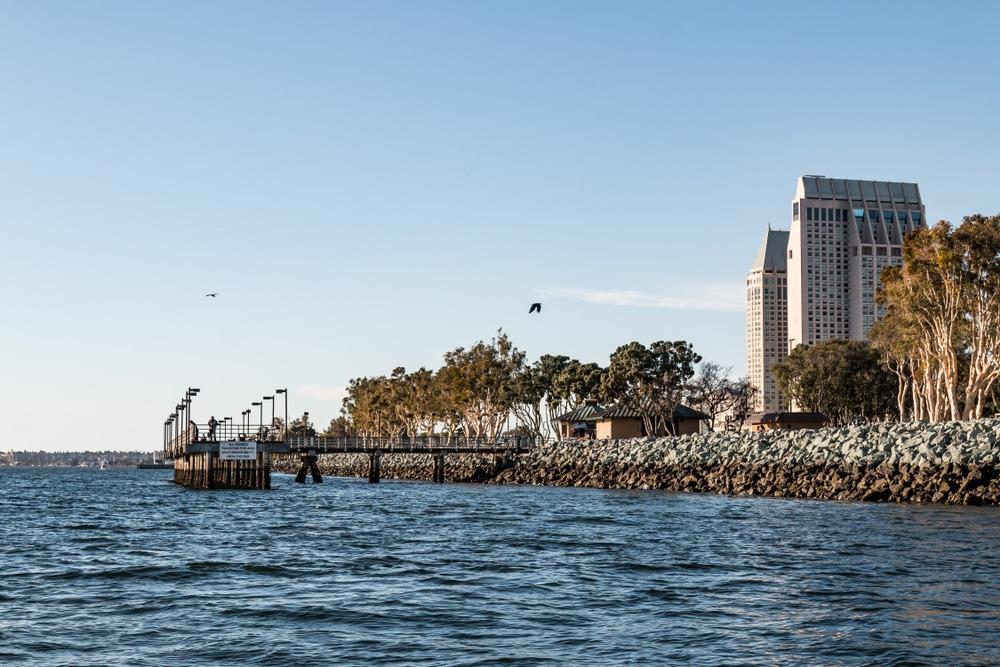 Photo Credit: Sherry V Smith
While you should absolutely take a stroll down to the end of the pier to check out the sites and sounds of the Pacific Ocean, the main attraction at the Embarcadero Marina Park South Pier is fishing. It's a public pier, so there's no fishing license required for anglers, and it's a great spot to reel in some local bass, black croaker, and queenfish, among other marine species.
If you're not traveling with your fishing gear, there's unfortunately no bait shop near the pier to rent or buy any. However, there are plenty of spots in Point Loma, Pacific Beach, and Mission Bay where you can pick up a pole and bait before heading to the pier. Nearby Squidco Fishing in the Midway District is a great option for bait and tackle.
Take In Local Art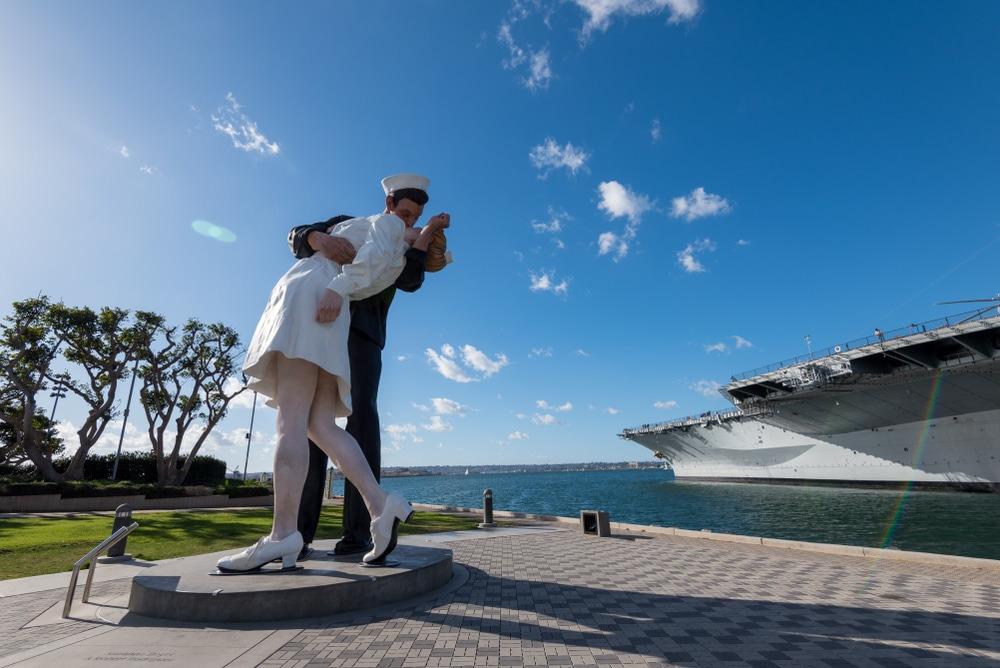 Photo Credit: Hit1912
Again, the real action happens around the pier—starting with the extensive collection of public art the city has displayed around Embarcadero Marina Park.
Walking down the winding pathways will inevitably lead you to some interesting pieces, but make sure you see the iconic Unconditional Surrender/Embracing Peace statue next to the U.S.S. Midway and the Coming Together Sculpture near the San Diego Convention Center.
Catch A Symphony Performance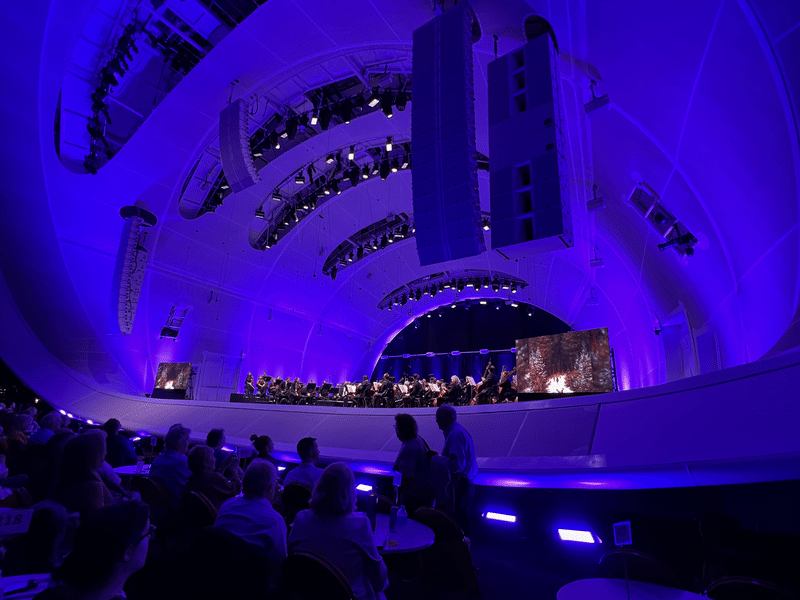 Photo Credit: commons.wikimedia.org
The Rady Shell at Jacobs Park
is a seasonal outdoor amphitheater that hosts a variety of musical performances and events—from
the San Diego Symphony
to local tribute bands. It's located right next to the pier and is a great spot to catch some live music while taking in the incredible views of the San Diego skyline.
Visit The Midway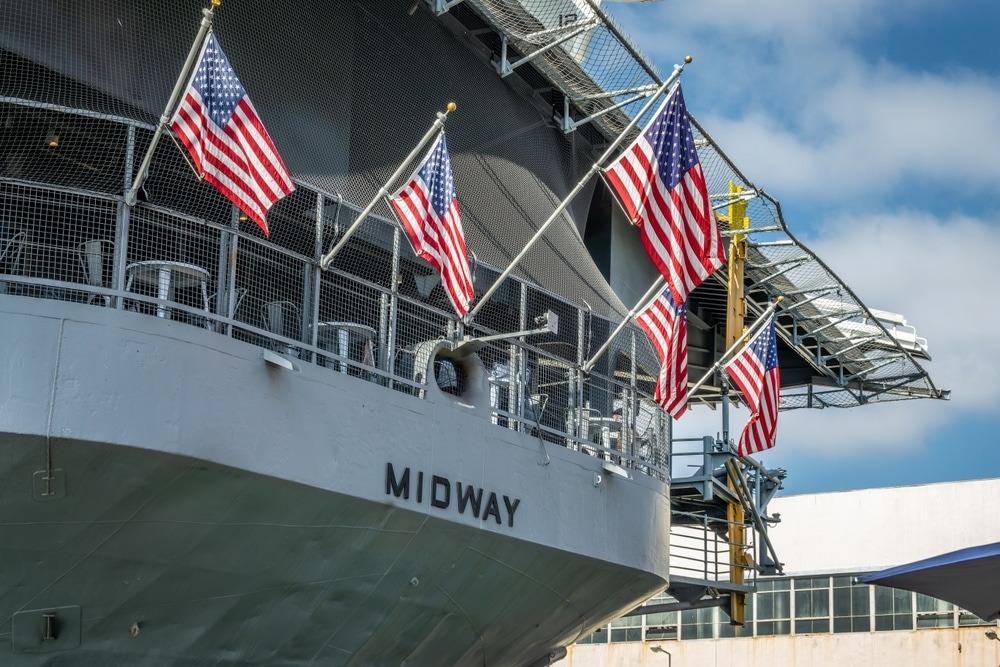 Photo Credit: Delpixel
The U.S.S. Midway Museum is a must-see for any history buff (or anyone who likes really cool warships). This massive—over 1,000 feet long—once-operable aircraft carrier was turned into a historic naval aircraft carrier museum in 2004.
In its heyday, it was the longest-serving aircraft carrier in the U.S. Today, you can tour the inside of the ship, check out the aircraft on display on the flight deck, and grab a bite to eat on the outdoor patio of Cafe 41.
Stroll Through the Park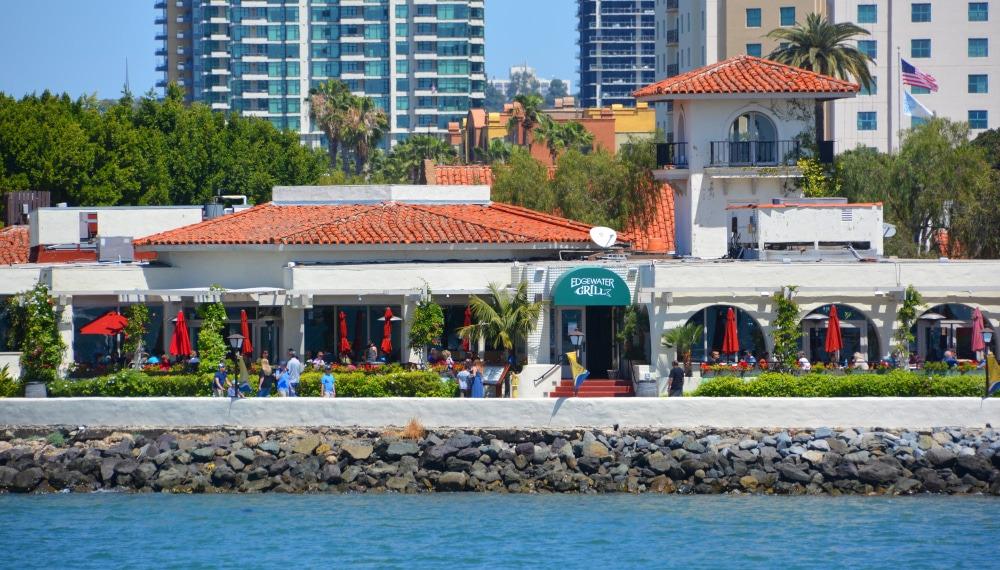 Photo Credit: meunierd
Whether you're strolling around Embarcadero Marina Park, picnicking in the grassy knolls of Embarcadero Marina Park North, or letting the kids run wild on the playgrounds at Waterfront Park, the area around the pier has plenty of green space for everyone to enjoy. Make sure to dedicate at least one morning or afternoon to exploring the parks around the San Diego pier.
Stay For An Event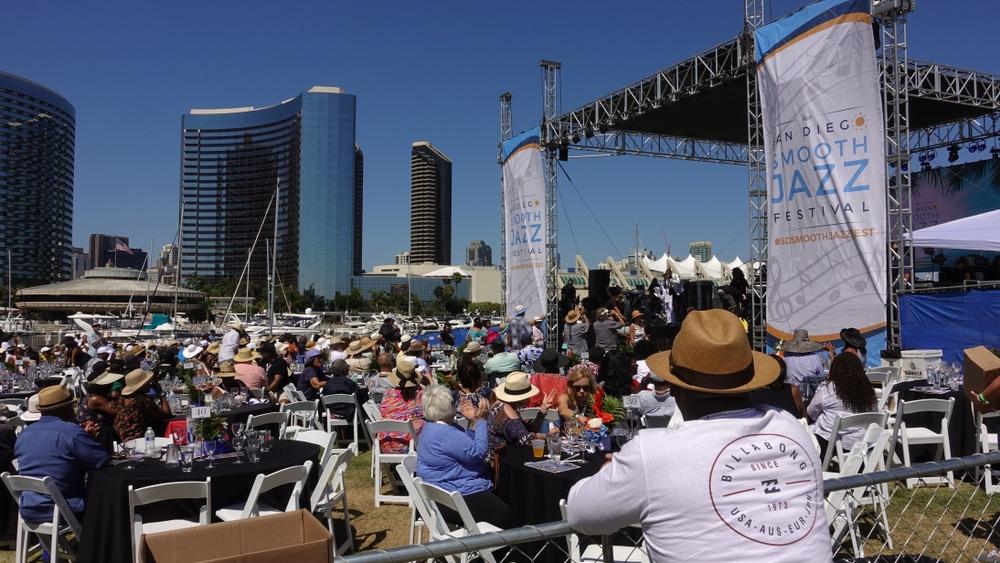 Photo Credit: Simone Hogan
This area—especially its parks—hosts a variety of events throughout the year. From full-on musical festivals to wine and beer tastings to 5K runs and fireworks displays—you can find something going on every month. Do a little research before your visit (San Diego Parks and Rec isn't great at keeping their events page up to date) to see what's happening in popular events spots like Waterfront Park.
What To Do Around the Area
Take A Boat Tour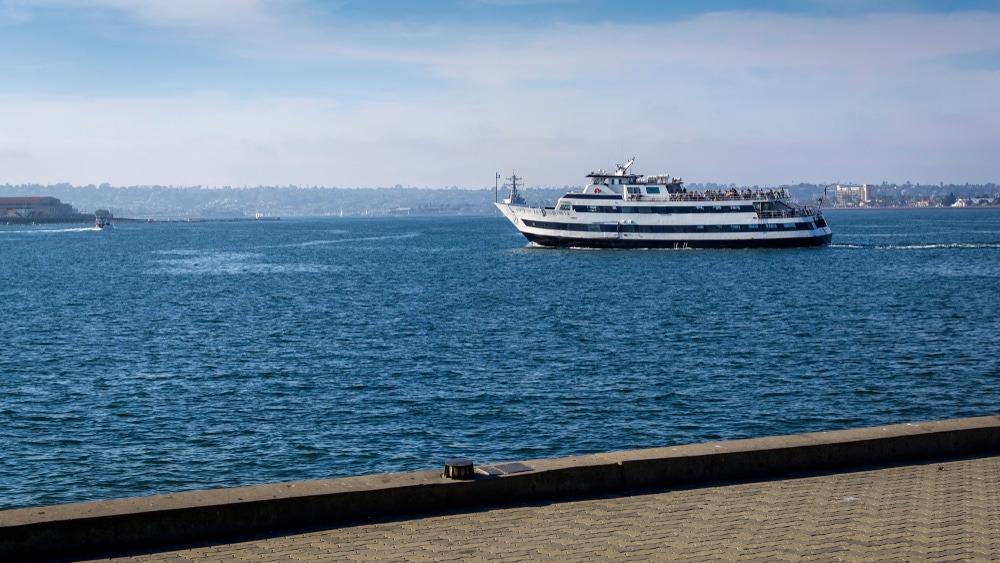 Photo Credit: Artography
Enjoy a favorite pastime of locals and hit the water on one of the many boat tours available. The Flagship embarks from the Broadway Pier—a cruise ship terminal and offers hour-long tours of the bay.
You can see naval ships and sea lions and enjoy the views of San Diego while sipping on a glass of wine or local brew. If you want a more thrilling excursion, try their Patriot Jet ride. It's a high-speed, 30-minute tour with quick maneuvers and complimentary ponchos because you will get wet.
Go Shopping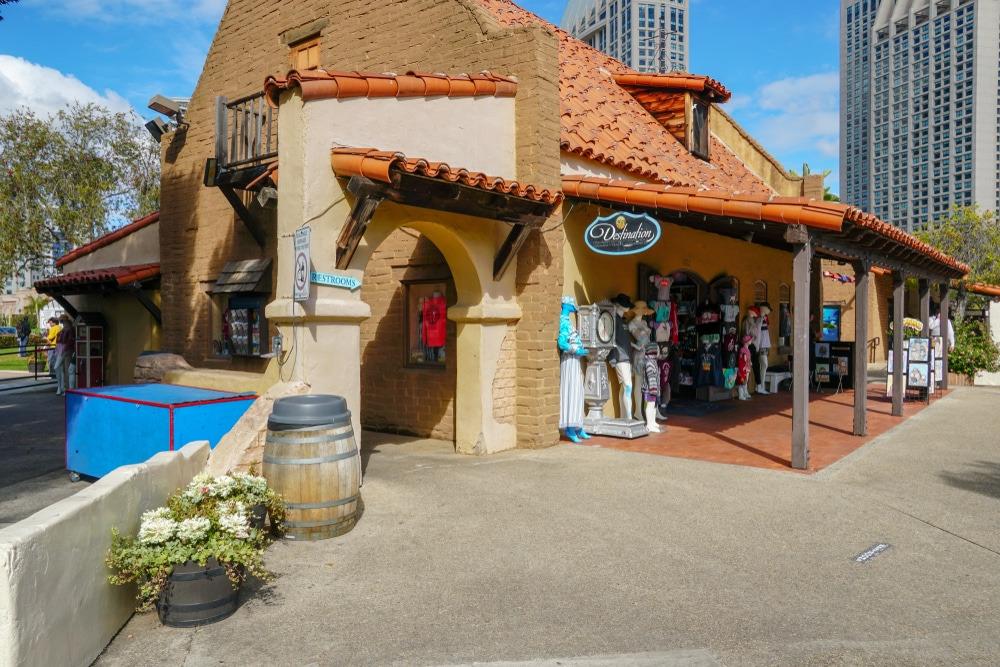 Photo Credit: Unwind
Seaport Village—just a 10-minute walk from the pier—is a shopping and dining destination with more than 30 themed shops and stores where you'll find unique souvenirs galore.
Grab a kite to take out onto the park at Kite Flight, a San Diego-themed magnet at Magnuts, or some nautical home decor at Ocean Avenue. With tons of shopping opportunities and a few places to grab a bite to eat, it's easy to kill a few hours at Seaport Village. There are also always tons of vendors selling handmade crafts and other goods near the pier in Embarcadero Park.
What to Eat & Drink Near the Pier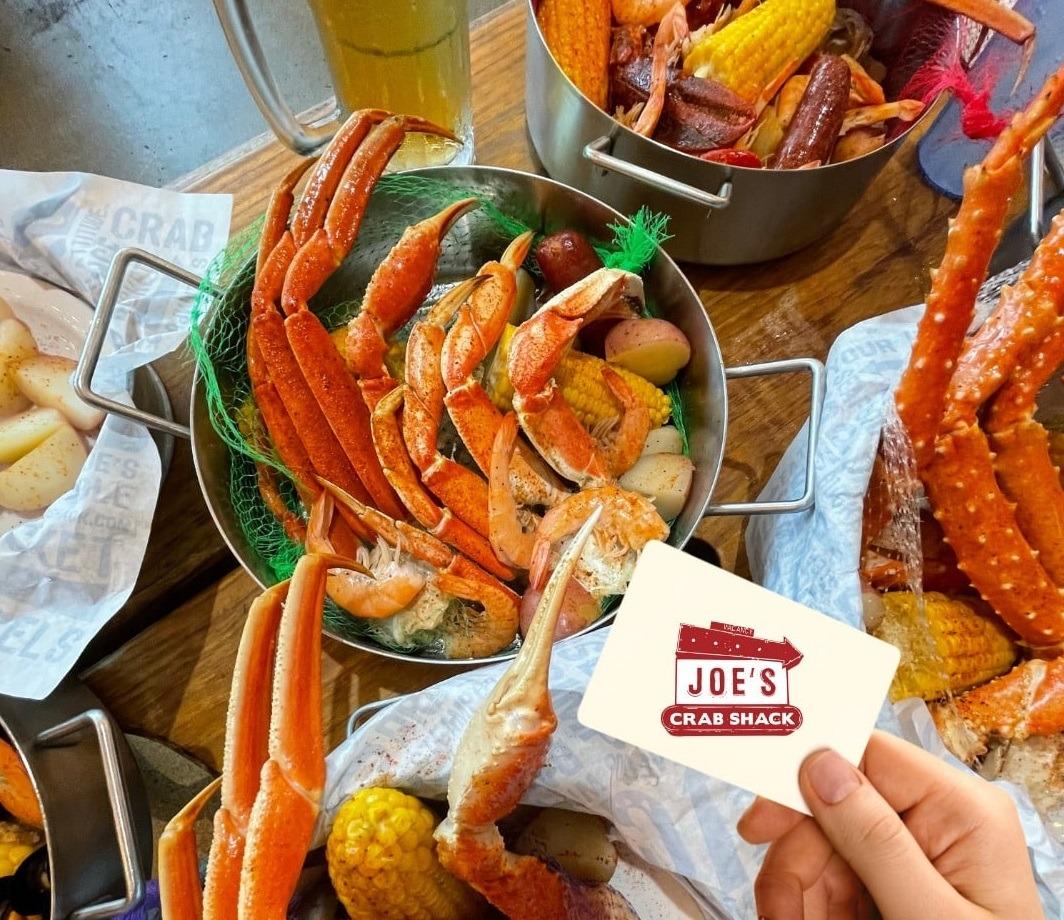 Photo Credit: Joe's Crab Shack Official Page
As with anywhere in San Diego, you'll not have difficulty finding a delicious bite to eat or a cold beer to drink. The Embarcadero Marina Park South to a few popular eateries, including the uber-casual Burgers, Bait & Beer, and the well-known chain
Joe's Crab Shack
.
You'll find even more food and drink options if you head just slightly out of the park. Marina Kitchen Restaurant & Bar is located inside the Marriott and boasts some incredible bay views, and Seaport Village has plenty of places to grab a quick snack or a more leisurely meal.
Mike Hess Brewing—one of San Diego's many award-winning breweries—is just a block from the pier and perfect for a pint or two.
Walk a little farther down past the U.S.S. Midway, and you'll stumble upon Carnitas' Snack Shack, a counter-service restaurant that features outdoor seating and awesome tacos.
Keep your stroll up for another 10 or so minutes, and you'll come across Portside Pier, an over-the-water dining hub home to Brigantine Seafood & Oyster Bar, Miguel's, Ketch Grill & Taps, and Portside Coffee & Gelato. The views at all of these restaurants are spectacular, and the food does not disappoint.
But if nothing alongside the water piques your interest, you can easily stroll into Downtown San Diego to find more dining options.
Spend the Day at Embarcadero Marina Park
The Embarcadero Marina Park South Pier is so much more than a place to throw your fishing line. From boat tours and shopping to parks and food, it's full of activities and attractions for all types. So make sure to plan ahead and fit this iconic staple into your next getaway to a San Diego vacation home—you won't regret it.