Mission Beach Property Management
Having a place to call home in Mission Beach, San Diego is great to say for homeowners and tourists alike. Do you have a piece of Mission Beach property that you no longer occupy on a regular basis? We specialize in preparing all types of homes as vacation rentals for visitors and guests of Mission Beach. Property management services are the key to securing the most income out of your home while you're away.
Property Managers of Mission Beach
With the professional services of Mission Beach property management, you can remove the stress that comes with dealing with guests and property maintenance for your home. San Diego Vacation Rentals is a full service property management company that specializes in converting your home into a vacation rental that generates you income. We handle every aspect of vacation rentals and home maintenance so that you have the flexibility to be involved as little or as much as you desire. It is our mission to keep your home in the best possible shape while ensuring an enjoyable experience for both you and your guests. See why San Diego Vacation Rentals is the best Mission Beach property management company in the entire city.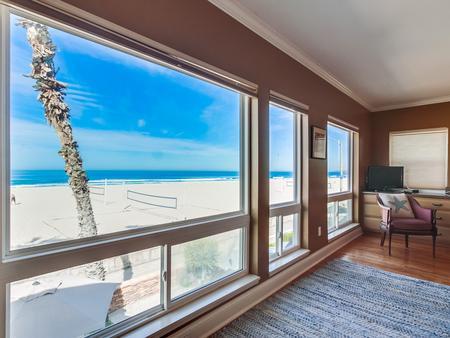 • Property Inspections – With over 45 years of property management experience under our belts, we know what works best for maintaining a successful vacation rental. We provide homeowners with free consultations of their property in order to recommend necessary repairs or items to be purchased for your home. Generally, all sleeping arrangements will need to be equipped with two sets of linens and towels for each occupant, up to the maximum advertised occupancy. We advise that all homeowners provide beach towels for outdoor use to avoid the use of bath towels. The kitchen will also need to be outfitted with enough placements and utensils for at least the max number of occupants your home can hold. Basic cookware will need to be provided and ready for your future guests. All of these can be purchased on your own or we may source them for you upon request.
• Advertising – Once your property has the basic amenities and is "rental ready," our Mission Beach property management team will have professional photographers come in to take quality pictures of your home. These, alongside a video tour, will be used on various vacation rental websites and communities to help you find vacation tenants.
• Tenant Screening – We treat your property as if it is our own. All potential renters are screened to make sure that they are respectable renters that you will want in your home. If you desire, you can be the final say in all tenant screening decisions to ensure that you have full control over your property.
• Guest Services – All guests get to enjoy 24/7 guest services under the care of our property management. San Diego guest services include 24/7 assistance, concierge services, and much more.
• Property Monitoring – Every part of your home will be investigated in order to prepare it as a "rental ready" home before any guests check in. When a guest checks out, we will inspect the property again to look for any damage or missing items. You will be fully informed during the entire investigation, and any necessary charges will be sent to the guest to remedy the damage or losses.
• Property Maintenance – We know the Mission Beach area very well and can prepare and protect your home against the most common coastal region issues. All of our vendors and maintenance crews are trusted professionals with many years of experience in the industry.
• Accounting Services – As you receive guests in your vacation-ready home, you'll begin to receive checks and owner statements every month that itemize any transactions during that period. You will also receive the 1099 form during tax season. If you need financial assistance, our bookkeeper on staff can assist you with any requests or questions that you have.
• Flexibility and Transparency – Whenever you want to stop by and visit your property, just let us know and we will block it off from future reservations and have it cleaned and prepared for your arrival! We also provide an "owner login" to our reservation software so that you can see guest visits and all of our notes in real time.
• Additional Accommodations – Have a specific request? Just let us know! Our office is local and our friendly employees are all close to potential rental properties. You and your home will be well taken care of, and San Diego Vacation Rentals will always be nearby if you ever need help.